Feel the comfort of our exclusive "double pillow design."
Our luxury pillows are made in Italy with the finest goose feathers enveloped by a sumptuous down. This unique design provides ultimate comfort and full support for every sleeping position. Elegant Strand's high-end pillows are available in standard, king and euro sizes in medium or firm for exceptional comfort and a good night's sleep.
THE BEST LUXURY PILLOWS
Think of the blissful sleep you get in an opulent bed at a five-star resort. You'll have the same experience with our hotel-quality pillow and bedding collections.
GOOSE DOWN & FEATHERS
Our Goose Down & Feather pillows are designed and manufactured in Italy for exceptional feel and maximum comfort.
DOUBLE PILLOW
Our unique pillow-in-pillow design guarantees ultimate comfort and support for every sleeping position.
MADE IN ITALY
Our Italian artisans are known exquisite craftsmanship. This creates exceptionally comfortable bedding.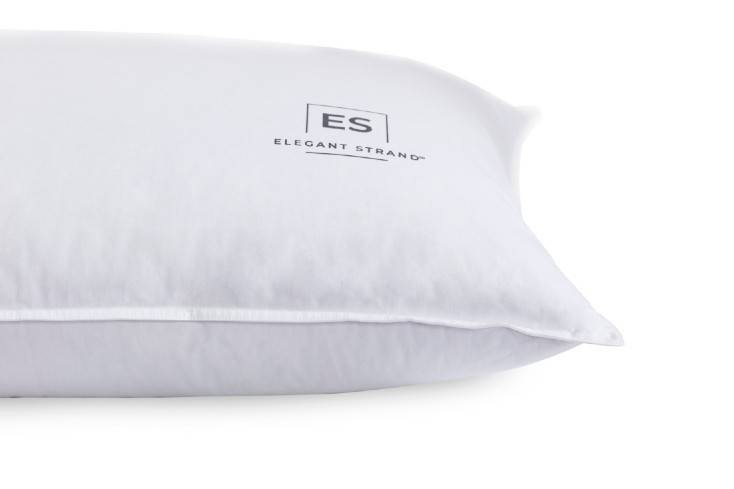 THE ULTIMATE SLEEPING EXPERIENCE

Complement your pure cotton bed sheets with an Elegant Strand goose down and feather pillow. Our premium pillows are designed for an unparalleled feel and maximum comfort. In fact, all of our pillows, sheet sets, duvets, towels and mattresses not only feature the finest craftsmanship but are also exceptionally attractive and durable. Shop our pillow collection today.
Complete your bedroom
You deserve a perfect bedding ensemble for the ultimate slumber. Browse the full line of Elegant Strand bedding products and add additional classic pieces to your cart. Complete your bedding collection with crisp, white sheets, a classic duvet and soft pillows…this luxury is perfect for the needs of every linen connoisseur.